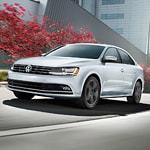 The Volkswagen Jetta offers a premium line of safety features! At Kempthorn Motors, we are glad to let you know about the whole safety package that comes with the Jetta! This vehicle was built to make sure you have peace of mind no matter where you take it.
If you happen to be in an accident in your Jetta, it has many safety systems that engage even when you cannot respond. The intelligent crash response system unlocks doors, turns off the fuel pump, and activates the hazard lights on your Jetta.
The automatic post-collision braking system initiates the brakes after a collision to avoid additional damage or crashes. There is also tire pressure monitoring, which lets you know if you need to add air to a tire or tires. The rearview camera on the Jetta initiates as you put it in reverse, so you are always aware of the obstacles behind your Jetta.