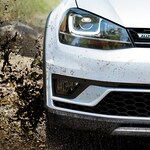 If you are in the market for a vehicle that has a variety of useful safety features, you should strongly consider buying the Volkswagen Golf Alltrack. This vehicle comes with an autonomous emergency braking system that will bring your car to a stop if it detects a person or object in your path.
By slowing down or coming to a stop, you may be able to minimize the severity of an accident or avoid it altogether. The Volkswagen Golf Alltrack also has a lane keep assist feature that will ensure that you stay on the road at all times.
An audible alert will sound if the vehicle is too close to the next lane or is too close to the side of the road. Finally, the Golf Alltrack comes with airbags on both the driver and passenger side of the car.