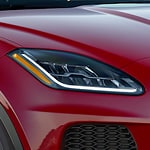 Jaguar has done it again. The new E-Pace has garnered much attention as of late and for good reasons. This remarkable SUV comes in a compact size, and it's quite fit for better road performance. Let's jump in for more details.
The 2020 Jaguar E-Pace has a striking exterior façade from head to toe. When the vehicle is sitting in idle mode, it still looks as if it's in motion from a philosophical standpoint. This bold, assertive styling fits the frame very well, and the SUV's frame is quite athletic. Jaguar has given the E-Pace a classic yet modern appearance that's crisp. Consumers will love how less cluttered the exterior is, which just so happens to give the SUV some elegance. Consumers can choose from the standard E-Pace trim or the E-Pace R Dynamic trim.
For more in-depth information, we urge all interested buyers to come and test drive this remarkable SUV.