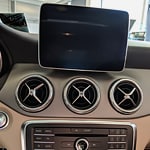 Why shouldn't you get the most out of your daily drive? The Mercedes-Benz CLA 250 does just that. With a superior cabin, state-of-the-art infotainment system, and a premium audio system, drivers get to sit back and relax with the latest version of the CLA 250. Some of the newest features include the 8-inch COMAND display, 7-inch digital instrument cluster, SiriusXM free trial, and six-speaker audio system.
You can connect your phone through Apple CarPlay and Android Auto to do anything with voice commands. For example, you want to set up a meeting on Skype with your international clients? It's easy to do with the latest voice control and steering wheel switches. You can also access everything in your multimedia package through your WiFi hotspot.
There are many premium options available with the latest Mercedes-Benz CLA as well. You can opt for the premium package or convenience package. You can test drive them both when you stop by our Canton location at Kempthorn Motors.