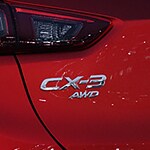 If you're looking for a popular subcompact crossover that's full of innovative design features, then the Mazda CX-3 is a great choice. We are very excited to feature this crossover at Kempthorn Motors, and we'd love it if you dropped by for a test drive.
The Mazda CX-3 offers helpful storage and seating options. This crossover is able to comfortably seat up to five passengers, and the rear seatback easily folds down in a convenient 60/40 split. So whether you're running errands or packing for a day trip, the Mazda CX-3 can easily adapt to your needs.
What if you could achieve the perfect driving atmosphere? With the carefully designed acoustic environment of the Mazda CX-3, this can be a reality. The acoustics of this crossover have been created to dampen external noises while enhancing your musical experience or conversations.