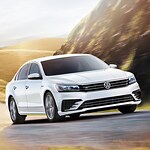 One of the most common concerns that Kempthorn Motors notices when car buyers are trying to choose a vehicle is safety. Thankfully, the Volkswagen Passat comes with some excellent safety features that are sure to satisfy these careful drivers. Whether you are more impressed by the anti-lock brakes or the automatic stability control, the Passat is designed with safety in mind.
The stability control system will alter the amount of engine power and brake pressure it detects that the vehicle has reached its handling limits. The anti-lock brakes are designed to make turning easier while braking if they sense that extreme braking has stopped a wheel's rotation.
Additionally, the Volkswagen Passat is equipped with several types of airbags. There are overhead airbags to protect Canton drivers' and passengers' heads during a collision. Furthermore, the front-impact airbags and side-impact airbags are designed to protect the head and torso, respectively.