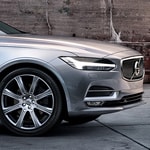 Looking for a luxury wagon that gives you lots of performance? Then you will want to see what the Volvo V90 has to offer. This is the luxury wagon that offers you three exceptional powertrain options. Here's a look at what each powertrain offers.
T5 Engine

The T5 engine is the entry-level powertrain that gives you up to 250 horsepower. This engine is designed to give you excellent performance while also delivering top fuel economy.

T6 Engine

For those who want a more spirited driving experience, there is the turbocharged T6 engine that delivers up to 316 horsepower. This is the engine that delivers a faster acceleration time and gives you more fun on the road.
T8 Hybrid Engine

?Finally, the powerful and advanced T8 turbocharged and supercharged engine is available. You get a total system horsepower of 415 with superior performance and fuel economy.